We're feeling a little agitated and out of sorts….you?
Nat's broken out with sores on her lips and I have no patience….AT ALL!
This is normal.  Part of what is called 'the healing crisis'.
Your body is detoxing by excreting the toxins and craving the sugar – or what ever other vice is your fancy – and it has to come out somewhere.
In a day or two it will pass so hang in there!  Keep drinking plenty of water, clear soups and detox tea to help flush your system.
In the meantime here's another detox soup for you to try that will help you through the process.
Gingery Noodle Soup
Ingredients:
2 spring onions
1 knob of ginger
2 cloves of garlic
2 fennel bulbs
1 tbsp sesame oil
1 tbsp vegetable oil
3 tbsp soy sauce
1- 2 tablespoons miso
soba noodles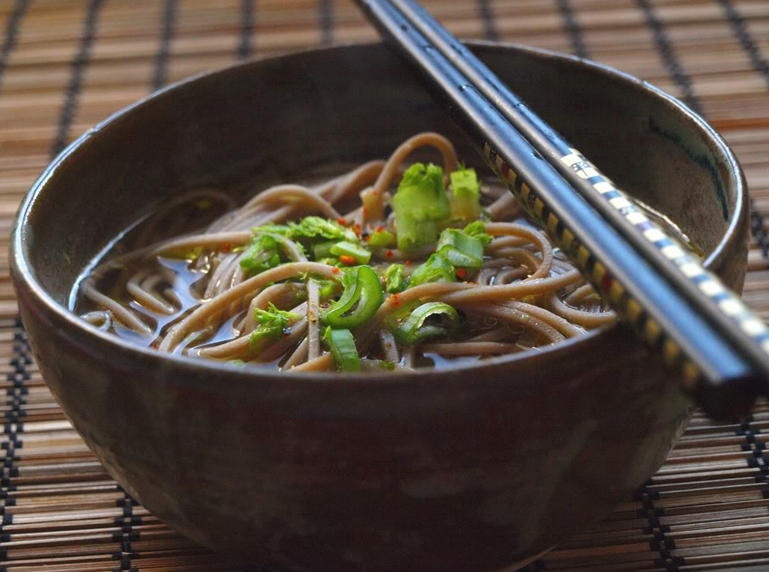 Slice the spring onions, garlic and fennel into thin slices. Grate the ginger right into the pot you want to make your soup in.  Add the white part of the onions and the oil, turn on medium-high heat and let it all heat up. Sauté for a minute or two, then add the fennel and garlic. Sauté for another minute, add the soy sauce. Add about 2 litres of water and the miso. Bring to a boil and cook for at least 5 minutes.
In another pot bring water to a boil. Cook the noodles according to the instructions on the package. Soba noodles take about 5 minutes, drained them, rinsed them well with cold water and added them into the soup. Turn off the heat, wait another minute and serve the soup in bowls. Sprinkle some of the green parts of the spring onions onto each bowl. Add some red pepper flakes or fresh chilli to make it a bit more spicy.
Reference: http://bembu.com/detox-soup-recipes