Want to try the Sweet Potato Pasta and Marinated Mushroom recipe we showcased at The Detox Journey event last week?
Here it is!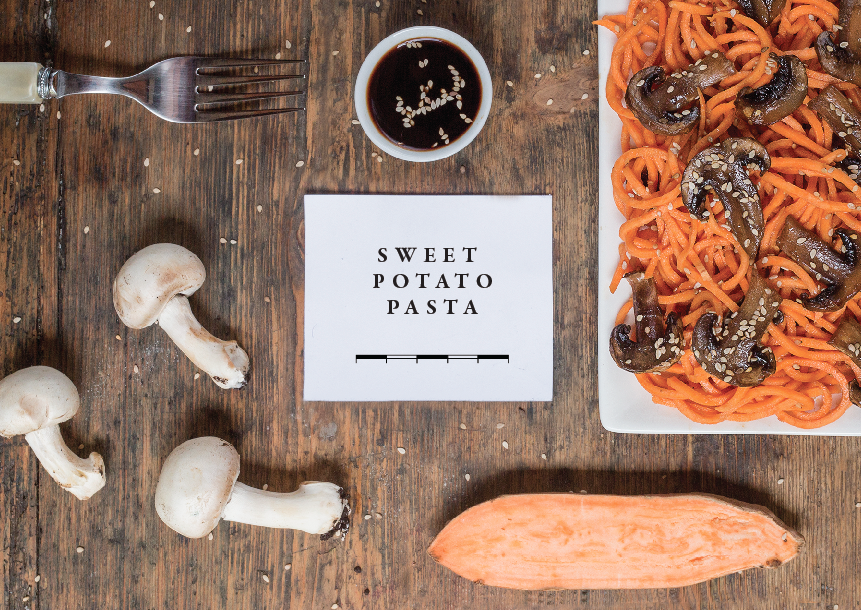 Sweet potato pasta and marinated mushrooms
Ingredients
Marinated mushrooms
4 mushrooms
1 teaspoons sesame oil
1 teaspoon tamari
Pasta sauce
2 tablespoons of nutritional yeast
1 tablespoon agave/maple syrup/raw honey
1 tablespoon miso
1 tablespoons zucchini hummus – see recipe below
1 peeled garlic clove
2 tablespoons mustard
3-5 tablespoons water, as needed
1 tablespoon sesame seeds
Sweet potato pasta
Instructions
To make the mushrooms: slice them really thin then rub in the oil and tamari. Put them in a warm spot (you can put in the oven at its lowest temperature) while you prepare the noodles.
To make the sauce: blend all ingredients except sesame seeds together until smooth.  Then toss in the sesame seeds by hand. Set aside.
To make the pasta: put the sweet potato through your spiral slicer (spirooli) or slice on a mandolin, cover them with the sauce and let them marinate. The noodles will soften and pick up more flavor.
When you are ready to eat, toss the mushrooms through the pasta, and sprinkle on some more sesame seed.
Serves 4
Gluten Free
Vegan
Reference: rawfoodrecipes.com
Zucchini Hummus
Ingredients
2 medium zucchini, chopped
½ cup lemon juice
1 teaspoon salt
1 ½ teaspoon cumin
1 cup raw tahini
4 tablespoons olive oil
½ cup raw sesame seeds
Instructions
Put all ingredients in your blender and blend to a smooth paste.
#raw #thedetoxjourney #bloggers